Today I got an email that said I had just ordered a new "Samsung 42LW5328, BV-FHDD 44-Inch 1080p 120 Hz Cinema 3D LED-LCD HDTV" from Amazon.com and that it has just been shipped.
I want to warn you that such e-mails can be designed to be misleading and fake. Sometimes the intent of the e-mail it to get you to click on the link in the email to take you to a sight that has nothing to do with Amazon.
Amazon suggest logging in in to your account with them ( never click on a link and put in your account information from a suspicious e-mail ). Go directly to amazon in your web browser and log into you account from there.
Here is what Amazon Says about these fake e-mails
"You may sometimes receive a scam e-mail from someone pretending to be Amazon. This message is called a "phishing" e-mail. Often the e-mail contains links to a website that looks like Amazon.com but isn't controlled by us. The website may ask you for your Amazon username and password or try to install unwanted software on your computer in an attempt to steal your personal information or access your computer. The message may also include attachments, which typically contain unwanted software called "malware." If you received a message like this but just deleted it, your information and computer are safe."
Here is a screen shot of the email I received.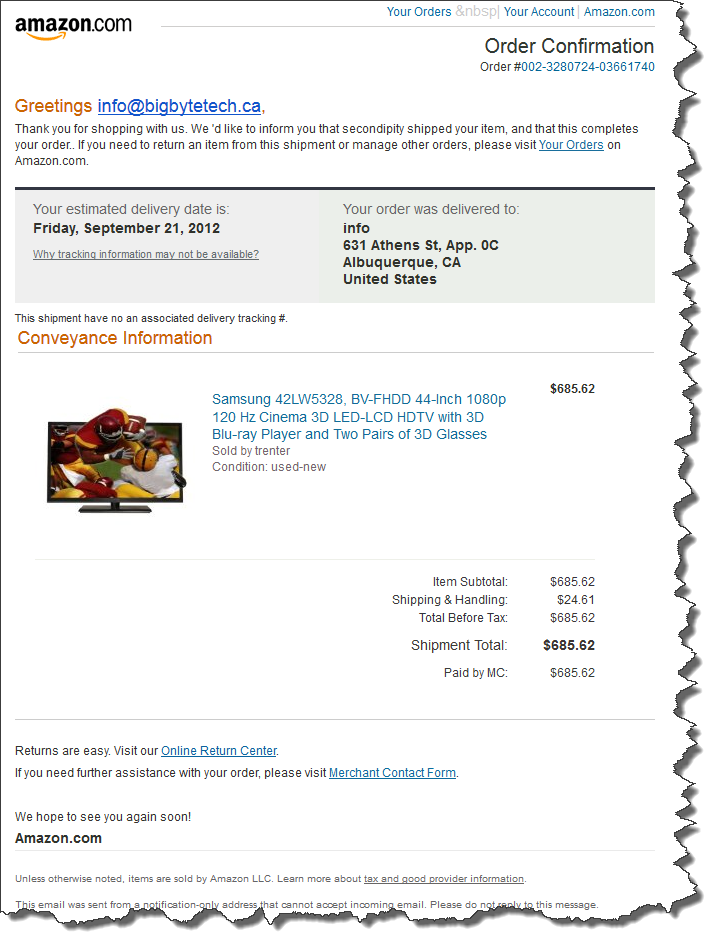 When I hover my mouse over the links I could see that all the links in the email went to the same place and none of them were related to Amazon. I suspect the email is intended to drive traffic to specified link. I did not click on it to see where it went and suggest you do the same.
Be safe when dealing with such e-mails and please be cautious when clicking on links in any email that you get. Be a little diligent and make sure the source links seem legitimate. for example if the email says its from Amazon.com but when you hold you mouse over the link in the email it says sucker.badnews.com or some other name that is not in alignment with the supposed source then proceed with caution.